At some point in the past couple of weeks, you might have read that Xiaomi's MI MIX Fold, which belongs to a line of phones you might have never seen in the wild or even heard off, will use the world's first liquid lens in a smartphone. Or perhaps you have seen a leaked video or watched the keynote in which it was announced.
Xiaomi Mi 10T
Display: 6.67", IPS LCD, 144Hz
Main camera: 64 MP, f/1.9
Wide-angle camera: 13 MP, f/2.4, 123˚
Macro camera: 5 MP, f/2.4
Xiaomi Redmi Note 9 Pro
Display: 6.67", 2340×1080
Main camera: 64 MP, f/1.9
Wide-angle camera: 8 MP
Macro camera: 5 MP
Depth camera: 2 MP
Storage and memory: 128 GB + 6 GB
Xiaomi Redmi Note 9 Pro
Display: 6.53", 2340×1080
Main camera: 48 MP
Wide-angle camera: 8 MP
Macro camera: 2 MP
Depth camera: 2 MP
Storage and memory: 128 GB + 4 GB
The Xiaomi MI MIX Fold's liquid lens is the headline feature everyone has been talking about, but let's be honest, did you know that liquid lenses were even a thing before the news broke? And could you can claim to know what a liquid lens is, without any googling?
In this article, I will be attempting to explain a subject I had no knowledge off, until a couple of days ago. Because of that, mixed with the fact that Xiaomi is being rather coy on their setup, I won't be able to precisely explain how the Mi Mix Fold's camera works in detail. But I will do my best, and I'm hoping that this article will broadly be able to convey what a liquid lens is and why this is big news.
A short history of Xiaomi MI MIX
If you do not know of Xiaomi's MI MIX line of phones, they are basically Xiaomi's high-end, experimental – sometimes weird – designer-phones. The maiden MI MIX was, according to Xiaomi, the world's first 3 border bezel-less phone. It had a frame made of ceramic, which is something we don't see all too often, the proximity sensor used ultrasound radar instead of an infrared light, and the screen acted as a speaker, which is still pretty rare today.
The Xiaomi MI MIX 2 and MI MIX 2S were comparatively boring releases that built upon the first generation, but the MI MIX 3 brought with it what Xiaomi called a true bezel-less display. The cameras were located behind the screen, and you had to physically slide the screen down to let them see you. At the time pop-up selfie cameras weren't really a thing yet so once again I think that the Xiaomi MI MIX 3 can, just as the first generation, be classified as a unique and experimental phone.
Between the Xiaomi MI MIX 3 and the Xiaomi MI MIX Fold, the Xiaomi MI MIX Alpha was announced and prototypes delivered to well-known YouTubers. The Xiaomi MI MIX Alpha was, perhaps sadly, never mass-produced but was once again completely bonkers.
I would go as far as to say that the Xiaomi MI MIX Alpha would have been the craziest MI MIX smartphone of them all, but perhaps also the most useless. It featured a wrap-around display making the exterior more or less one big screen. The usefulness of that technology can be questioned, but it did look like something we had never seen before. Credit to Xiaomi for at least trying something new.
Introducing the Xiaomi MI MIX Fold
This year's Xiaomi MI MIX phone, the MI MIX Fold, is set to be another world first: The first smartphone to use a liquid lens. It will also be a foldable, and Xiaomi's first at that, but that part isn't of interest to this article. If you've seen a Galaxy Fold 2, you basically know what it looks like. The Xiaomi MI MIX Fold does have some unique tricks up its sleeve, but I do want to finish this article at some point in the near future.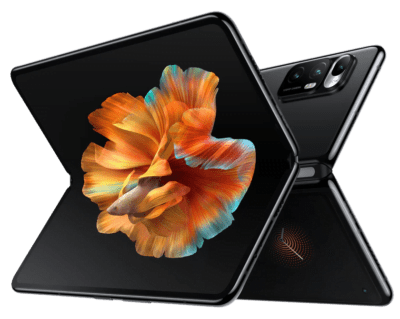 The Xiaomi MI MIX Fold's camera array has your usual main camera which features a 108 MP Samsung sensor and a 13 MP ultrawide camera which have become standard on modern smartphones. The camera featuring the liquid lens covers both macro and telephoto. In the image below it is the lens with the silver bezel with 30X embossed. It apparently has a close focusing distance of 3 cm and a 3x optical zoom (and 30x hybrid zoom). Xiaomi is advertising this camera array as having three sensors but four functions.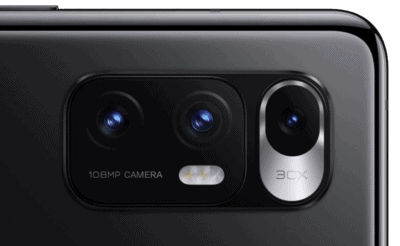 Why have a main camera and liquid lens camera?
The presence of the main sensor on the Xiaomi MI MIX Fold does make me question the quality of the liquid lens system just a little. After all, Xiaomi originally claimed the liquid lens could potentially replace the camera arrays we see on modern phones. Are they including a "standard" camera because their technology isn't quite up to scratch yet? Time, and more importantly reviews, will tell.
The MI MIX Fold gets an in-house image processing chip
Additionally, as if to prove that the liquid lens isn't a flash in the pan, Xiaomi developed their own image processing chip to control it. That's kind of a big deal because not many smartphone manufacturers actually develop chips in-house. The Surge C1, as it is called, also helps deliver better auto-focus and auto-exposure, as well as automatic white-balance control.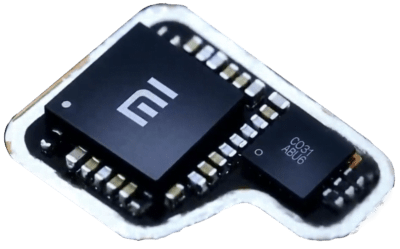 Google used to do something similar with their Pixel Visual Core (later renamed Pixel Neural Core), but gave up on it, starting with the Google Pixel 4a, with no sign of it returning. The custom image processing chip is bound to add some costs to the manufacturing, but if it delivers it is, in my opinion, well worth the price.
What are liquid lenses, and why is Xiaomi using one?
With the MI MIX Fold covered, let's take a closer look at what liquid lenses for smartphone cameras are and why they might be the standard in a couple of years time. With liquid lenses, the angle at which the light is broken can be changed without having to increase or decrease the distance between multiple pieces of glass, as is the case with a camera's zoom lens or the more recently seen periscope cameras on smartphones.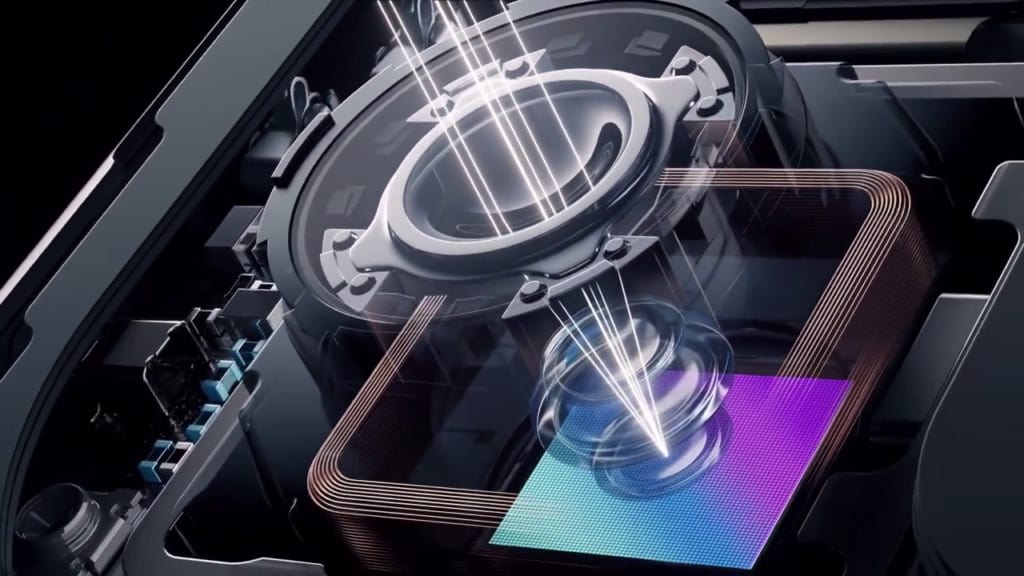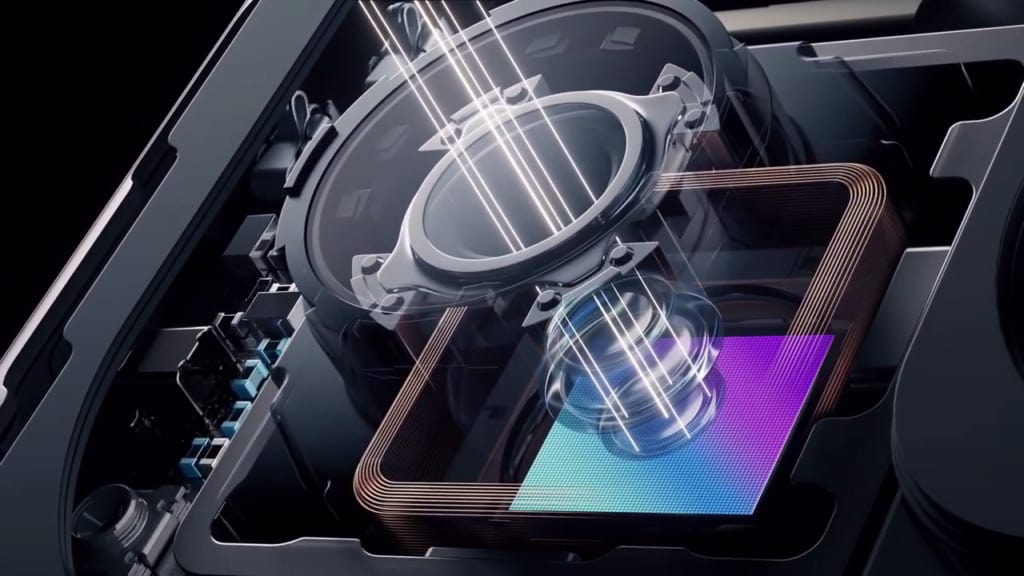 This allows liquid lenses to overcome depth of field limitations. In theory, by using a liquid lens, an imaging system can change focus without compromising speed or image quality, regardless of the object's distance from the camera.
Liquid lenses have been around for years
Liquid lenses aren't anything new. In fact, they've been around for years. They're commonly used in machine vision, life sciences, and UAVs. Corning Varioptic and Samsung were even working together on a liquid lens for smartphones in the early naughties. They even went as far as to announcing that their first phone with such a lens would be available commercially by 2005. That obviously never happened and, perhaps sadly, nothing has been heard of this partnership since then.
Speaking of Corning Varioptic, them and Optotune are currently the two leading manufacturers of liquid lenses. But, it appears that Xiaomi isn't working with either of them, and are instead using an in-house developed technology. Or maybe there's someone we don't know about developing liquid lenses too.
How the Xiaomi MI MIX Fold liquid lens works
And if we take a quick look at the leaked video that appeared before the Mi Mix Fold was announced, we can clearly see how Xiaomi's liquid lens works. There is a spherical surface, which is the liquid lens. The radius of that surface's curvature can be accurately changed using a high-precision motor. Once the motor pushes the surface outwards, the liquid takes on a concave form which will lead to the lens having a narrower field of view.
On a very basic level, Xiaomi's liquid lens imitates the way our eyes work. The ciliary muscle can contract and relax, changing the shape of the eye's lens and allowing us to focus. If we take a look at the leaked video again, we can see how a motor replaces the muscle, but the principle remains the same.
The Xiaomi MI MIX Fold's liquid lens won't freeze or evaporate
Despite many voicing their worries, there is no chance of the liquid lens freezing or evaporating in "normal" temperatures. The Xiaomi MI MIX Fold's liquid lens can maintain a fluid form in an environment from a low of -40° C to a high of 60° C.
And if you're thinking the upper limit might be an issue, keep in mind that your lithium-ion battery will also struggle at 60° C and -40° C would also present some issues. For example, Apple recommends keeping an iPhone between 0° C and 35° C while storing it between -20° C and 45° C.
Are liquid lenses going to appear everywhere?
In my opinion, a liquid lens setup such as the one in the Xiaomi MI MIX Fold is not going to be the norm anytime soon. But in the long-term, as the technology matures, it could be possible that liquid lenses will replace the crazy camera arrays found on modern smartphones.
With Xiaomi's implementation on the MI MIX Fold you do have moving parts in the high-precision motors and moving parts are easier to break than non-moving parts. Perhaps it will take an alternative implementation, such as something similar to Corning Varioptic, which uses electrowetting, for liquid lenses to hit the mainstream.
Will Samsung, Apple, and Google join the liquid lens party?
Perhaps in three, four, or five years from now we will see a liquid lens on a mainstream high-end smartphone. And then add on a couple of years to that before Apple will be calling it their next great innovation. But before that can happen we will most likely be seeing more and more Chinese models featuring them.
Google Pixel 5
Display: 6.0″, FHD+ (1080 x 2340), Flexible OLED, 90 Hz
Memory and storage: 8 GB LPDDR4x RAM – 128 GB storage
Water and dust resistant: Yes
Samsung Galaxy S21 5G
Display: 6.2″, FHD+ (1080 x 2400), Dynamic AMOLED 2X, 120Hz
Memory and storage: 128 GB – 8 GB RAM or 256 GB 8 GB RAM
Water and dust resistant: IP68
Apple iPhone 12
Display: 6.1″, Super Retina XDR display
Memory and storage: 64, 128, 256 GB storage – 4GB RAM
Water and dust resistant: IP68
Especially Xiaomi will not want to see all the money invested in the R&D go to waste. I mention Chinese manufacturers because that is the way smartphone development currently works. Samsung, Google, and Apple will generally wait a few years for a new technology to mature before featuring it in any of their flagships. Chinese manufacturers on the other hand will use anything new and exciting, no matter the quality or usefulness.
For example, the first pop up selfie camera appeared on the vivo NEX 3 and the vivo X21 was the first phone to feature an under-screen fingerprint sensor. Oppo was the first to use a periscope camera for real zoom and not just digital zoom, and they are really pushing the limits on fast charging. Currently, they are even putting two battery cells instead of one in their smartphone, allowing both to be charge simultaneously. The Huawei P20 Pro had the first triple camera setup and ZTE used the first under screen camera. It isn't good, but it's there, and they can claim to have been the first to do it.
Summary
To sum things up, I firmly believe that liquid lenses, such as the one found on Xiaomi MI MIX Fold, could be the standard in a few years time. Camera arrays take up a lot of space which could otherwise be used to expand the battery (or to bring back the headphone jack!). Each sensor in an array obviously costs a pretty penny and thus liquid lenses could lead to cheaper smartphones. But, a liquid lens will have to perform reliably and the quality has to be at least as good as the alternative.
I wouldn't go out and buy a Xiaomi MI MIX Fold just because of the liquid camera. It's a first-generation product and as usual, you should let others test them before investing yourself. But I am excited to see how liquid lenses will develop.